...me!
I've just joined the forum, in the hopes that any (usually silly) questions I may have over the next 6 months or so will be answerable by the collective knowlege of it's inhabitants...
I'm currently working on my new PC, my second one since I started building them myself almost 3 years ago. I know some people move form one project on to another, but it was expensive and it's still running happily to this day...
It started off in September 2007 when attempting to do some video editing on my computer for a friend, when I started getting unbelievably frustrated by the time it was taking to do anything. I had a fair idea about computers, and decided I needed some more RAM to give it more breathing space. It was at this point (when I went into a shop...) I discovered there was an awful lot of types of memory...
So, I began researching to find out exactly what I needed, and the more I read the more I began to think that maybe an upgrade wasn't the solution... My computer used DDR RAM, which was now becoming quite expensive due to DDR2. Despite the fact that I'd bought my new Vectra the month before, I decided I would build my own one from scratch. (Computer, not Vectra....)
Initially I concentrated on the main components and the Operating System, and read through a million magazines (mainly Custom PC...) and online reviews to decide what the best was I could afford. After a few weeks of study, I ordered my components and then set about building it.
I was suprised to discover just how simple it was, and compared to the prices in the major stores it wasn't that expensive. This is when it becomes clear that the market isn't really there when you can build them yourself, unlike laptops. You have to buy a laptop (realistically) in the shops, so there's much more of a competitive market...
My study further revealed to me the art of water-cooling and PC modding, and my mind set to work on how to accomplish something impressive that would feed my creative hunger... This is why I used to love lego I think - I enjoy building things and doing stuff with my hands...
Initial experiments with water-cooling proved useful, although I wouldn't fully adopt it for another 6 months or so due to my original case just not being anywhere near big enough to do what I wanted. After various component upgrades and system tweaks, I have now wired and plumbed everything into place, and for now the project is finished. I never have gotten round to tidying up the wiring properly, but it does run quite happily without any of the cooling fans on purely because of the volume of fluid acting as a giant heatsink...
Specs:
Case: Silverstone TJ07 Black with Window
Motherboard: Asus Blitz Formula LGA775
CPU: Intel Core 2 E8400 3.0GHz overclocked to 3.8GHz
Memory: 8GB Corsair Dominator 8500 DDR2
Graphics: Nvidia 9600GT factory overclocked
Hard Drives: Total 1.5TB with space for two more
Water-cooled CPU, Northbridge and graphics
Screen on the front displays almost anything you want, from CPU temps and speed to a news feed...
Second reservoir on the front has a UV LED in it to light up the fluid, but it's not very bright...
Behold...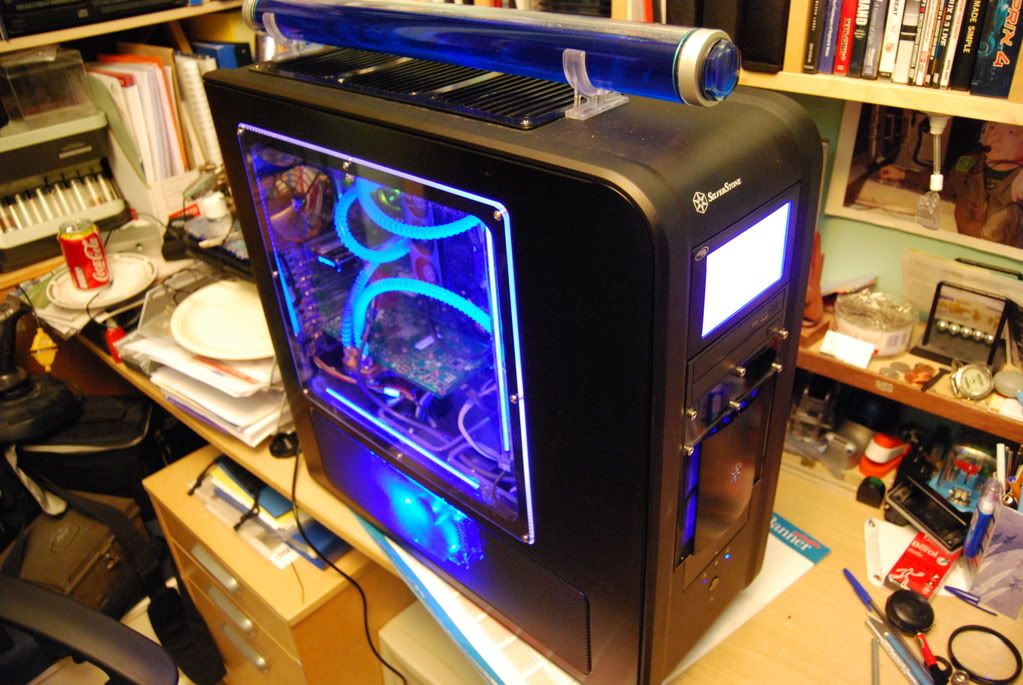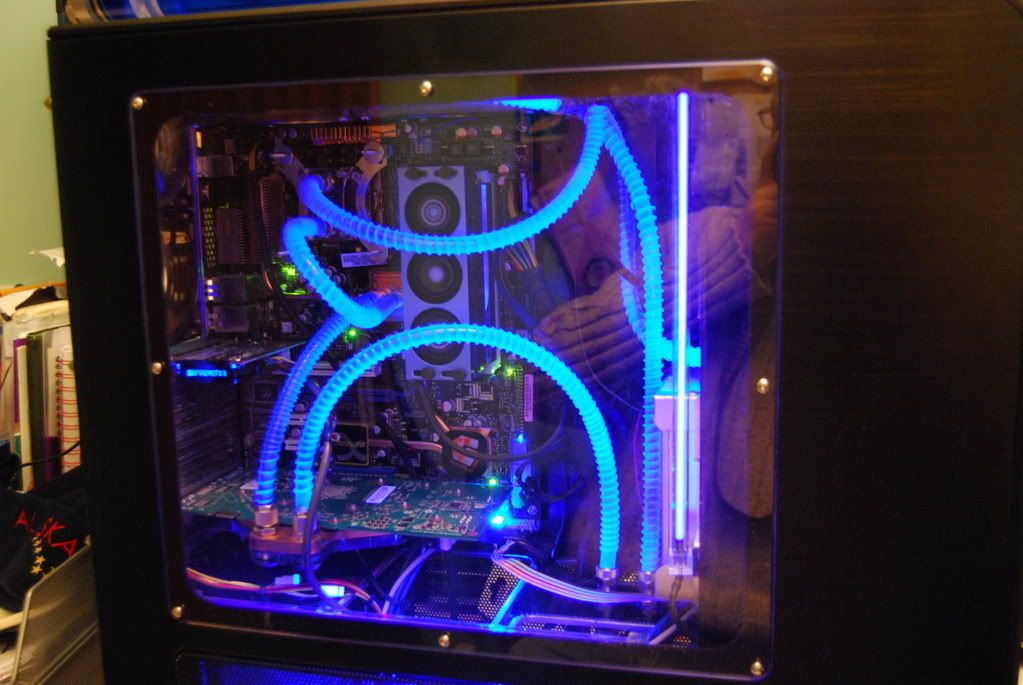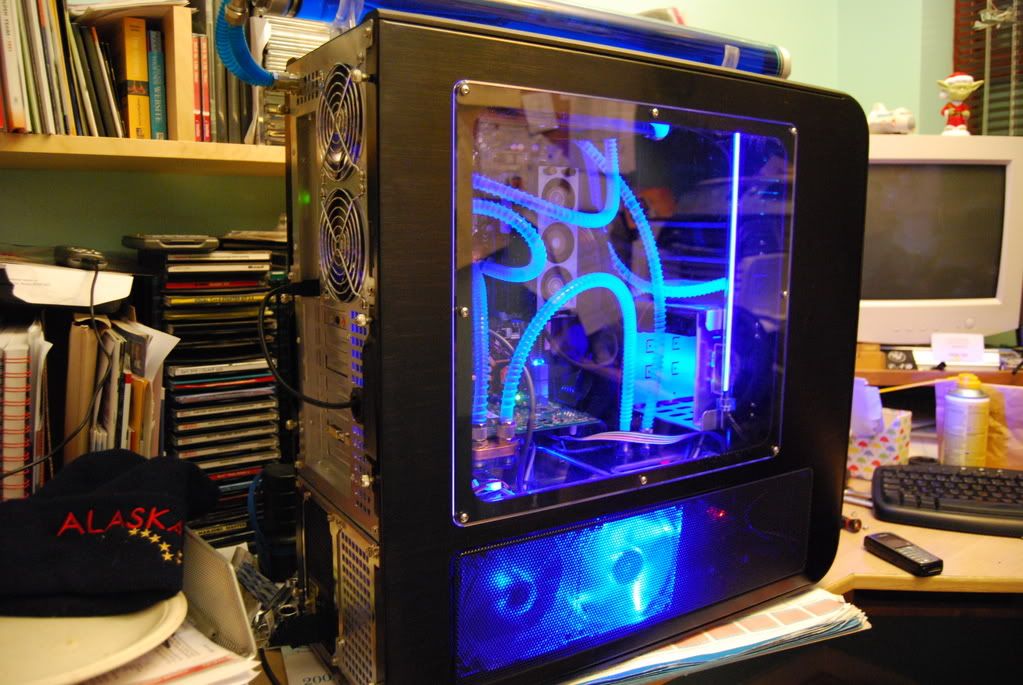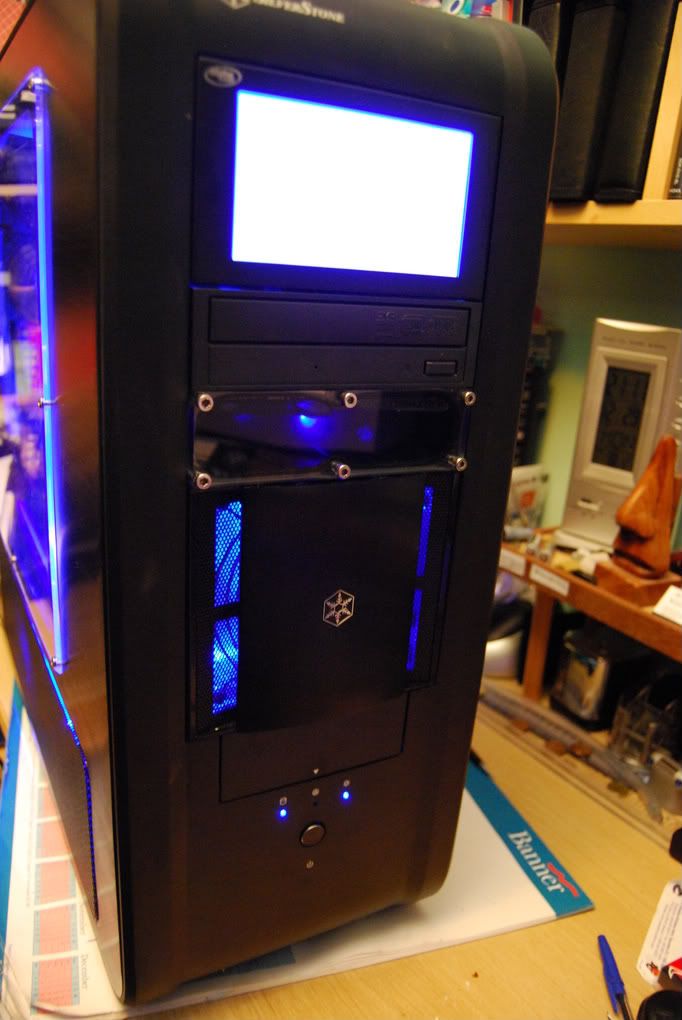 As this is still running fine, I'm in no hurry with my new one, and won't even select the components till I've finished with the case. I was hoping to get all the modding and painting etc done at WCUK, but the shop still appears closed for those services at the moment...
So far, the main component I've got is this: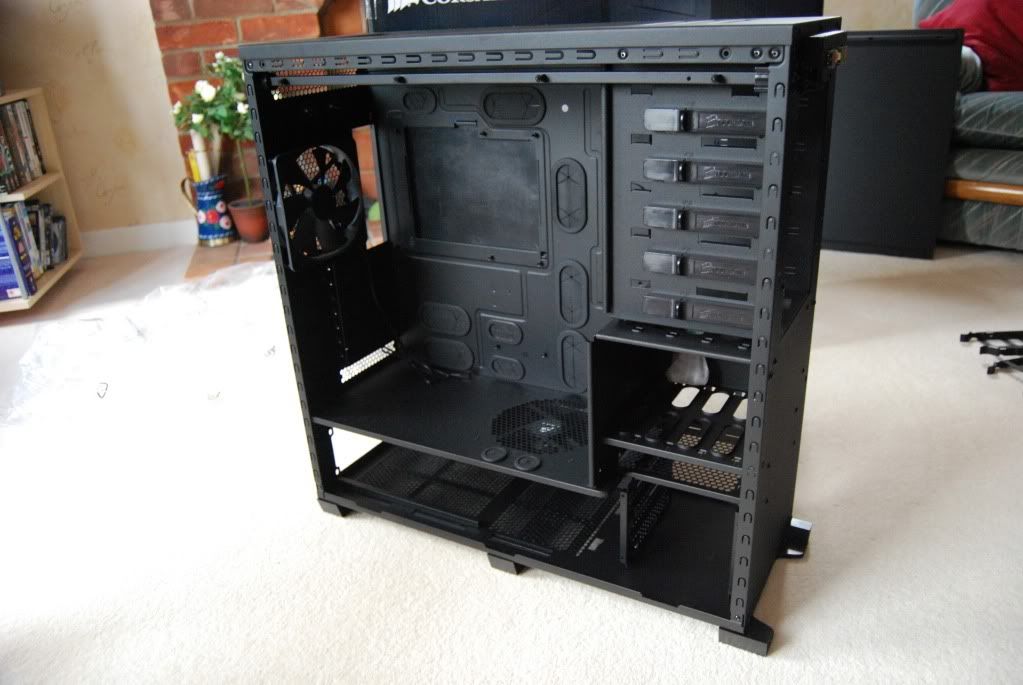 Not the 800D - my reasons being that I'll be making my own side window anyway to show what I want, and I don't need the hot-swappable drives anyway...
Once I start getting the other components delivered and decide on a final design, I shall add a project log...
Bitspower fitting, here I come...<dance1>