Biostar TH55 XE review



Introduction
Biostar were founded in 1986, with their original focus being on XL motherboards. Since then, like any good business, they've developed and expanded their range and product quality. As far as enthusiasts go, back in the Socket A/ 478 days, their star (no pun intended) was pretty dim and awareness of their products fell behind those of companies like Asus, Abit, Gigabyte et al. They made some headway with AMD Socket 939 but it wasnt until Intel socket 775 delveloped and gave us P45 that Biostar went supernova. Their P45 boards filled global leaderboards until X48 came along, but Biostar were already much more in the enthusiasts field of vision. Biostar have been fairly quiet on the Intel side since Nehalem came along. They released X58 boards in the first wave of I7-fever, but were spending more time with AM2 and AM3 boards, with some noteable success. The release of Intel H55 has seen Biostar release new boards, mostly on the m-atx spec, which has seen a massive increase in quality and popularity over the last two years. We have the TH55 XE here for review... lets see how it stacks up.




Box, Bits and Board


The Box:




is reasonably plain, focussing on the product name and a few of the key features included in the board. If I was going to be harsh, they could have picked some more sellable features for the front of the box. PCI-E 2.0, 8-channel sound and Gb Ethernet arent really head-turners. They also have an image of an AM3 board in the corner..... a bit random.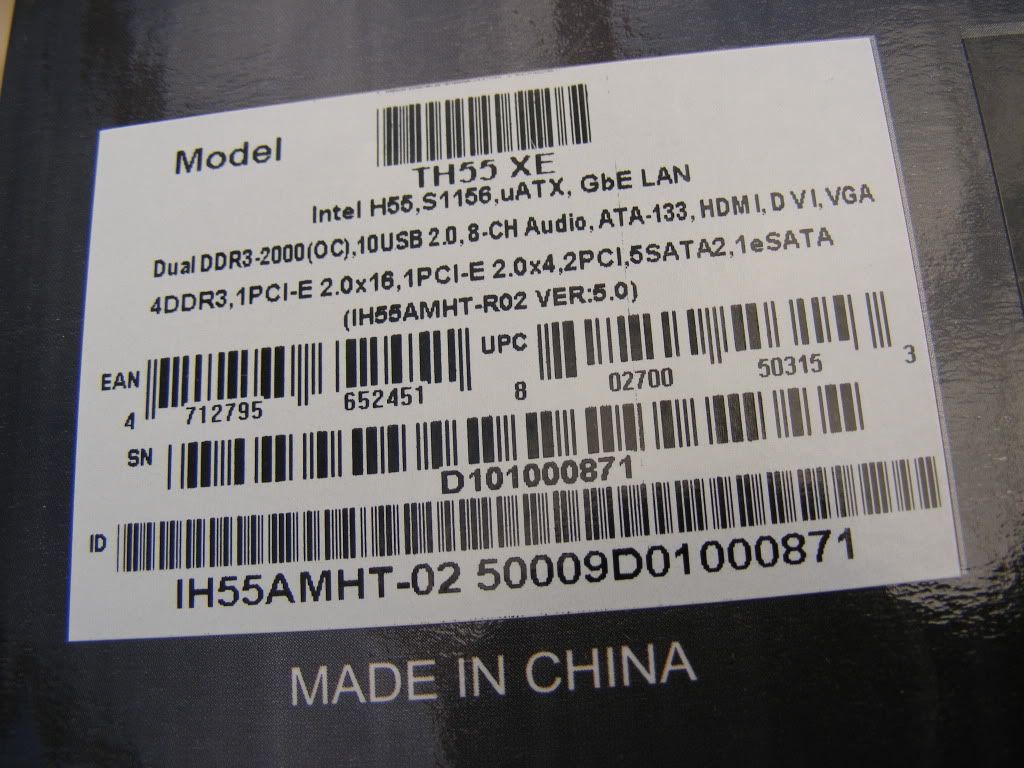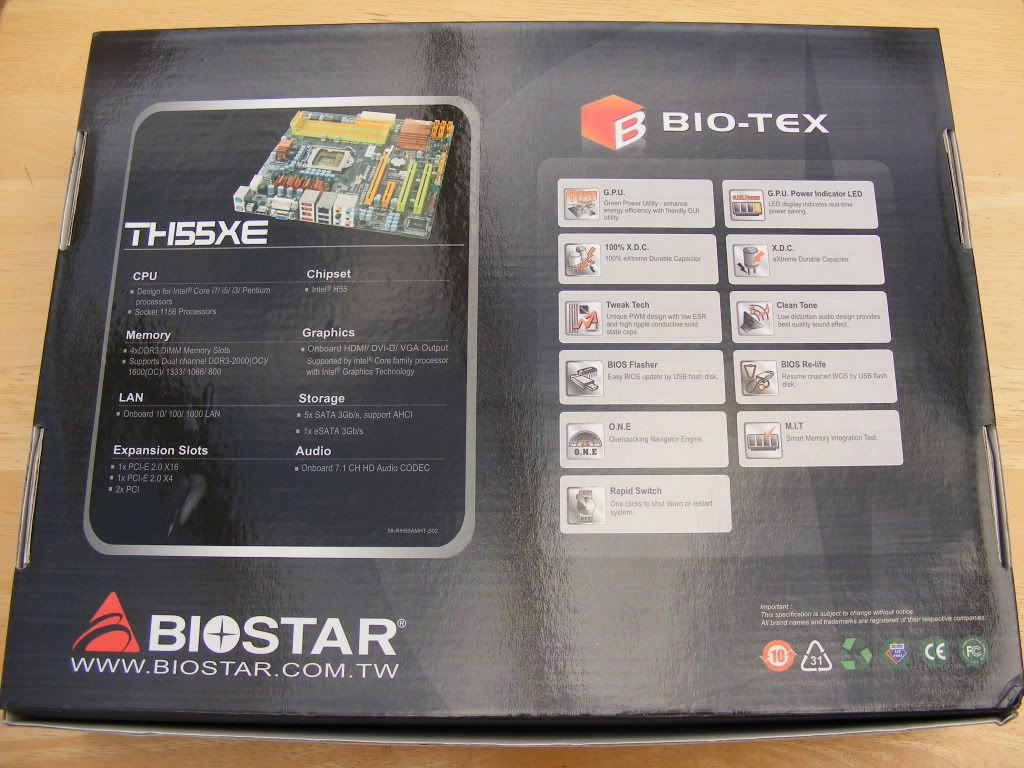 The back of the box is better, showing details of what BIostar have included at both hardware and software level. Theres also a full-list of fundamental specs. Some of this should ideally be pushed to the front of the box to tempt more buyers.




The Bits: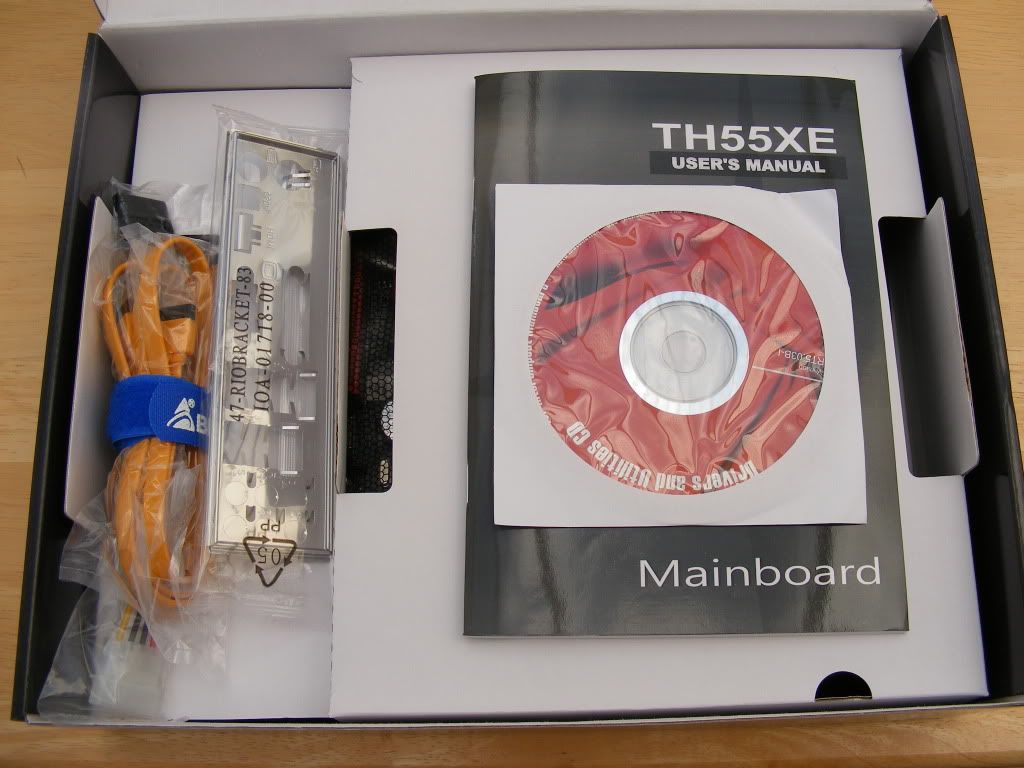 to-the-point but not unexpected. An /O plate, 3x S-ATA data and 1x S-ATA power cables, wrapped in a useful velcro cable-holder... nice touch! Also included are the User manual (solely in English, and reasonably good English at that!) and the driver CD.


Bundled software:

Biostar include a Windows OC Utility, a power-saving monitor and a BIOS flashing tool. Jumping ahead slightly, heres a quick overview of them:


The BIOS-tool works fine- I upgraded to the latest BIOS at the start of testing.

The power-saving monitor... shows PWM phase activity and other stuff. Seems a bit.... pointless, to be blunt

The OC utility... this is good! It offers realtime BCLK, vCore, vTT, vDIMM adjustments, as well as temperature monitoring and other stuff.
The OC utility works! Its great! The voltages are applied as soon as the button(s) are pressed. The BCLK changes have to be confirmed. At low BCLK, it works fine. At high BCLK... it tends to power down the system. Maybe not the best software for CPU-Z benching, but for 24/7 use... its pretty damned good!
The board:
The colours aren't entirely to my taste, but it looks nice enough once set up. I think the colour scheme is growing on me.....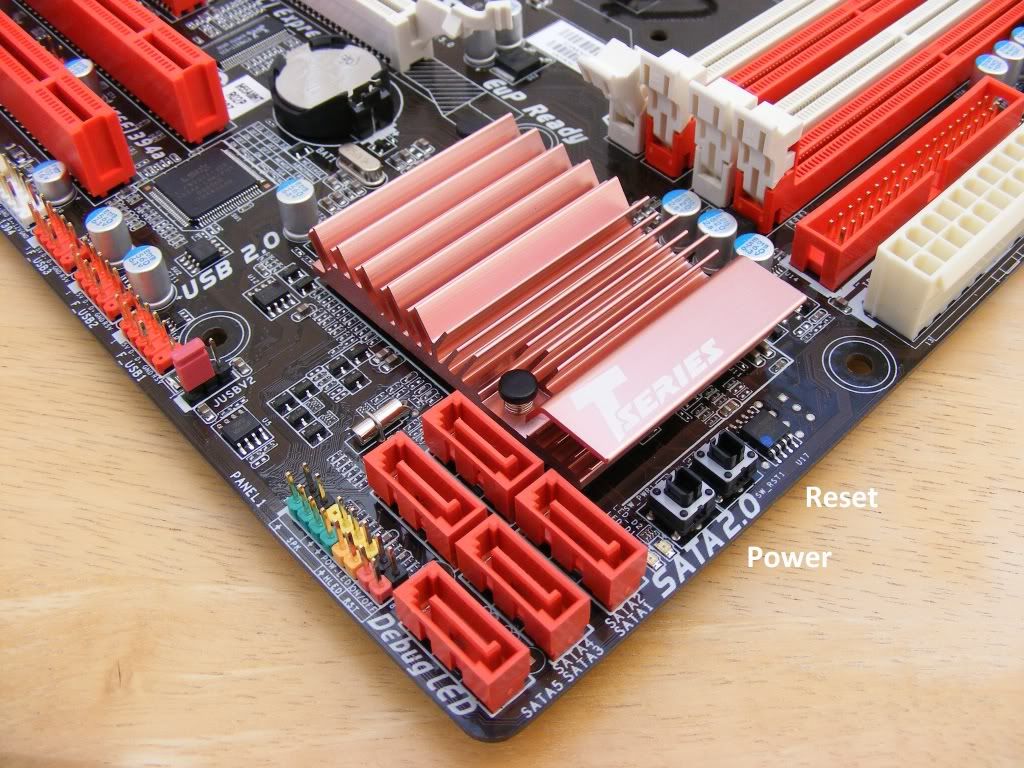 The S-ATA ports arent angled, sadly, but are kept out of the way of the PCI-E slot. Double-slot cards wont affect them in any way. The board has on-board power + reset buttons.... but they aren't entirely clearly marked. I've annotated the picture to save at least two seconds of a users life.
The RAM slots are close to to PCI-E line and will interfere with RAM changes. On a m-atx board, this is no surprise.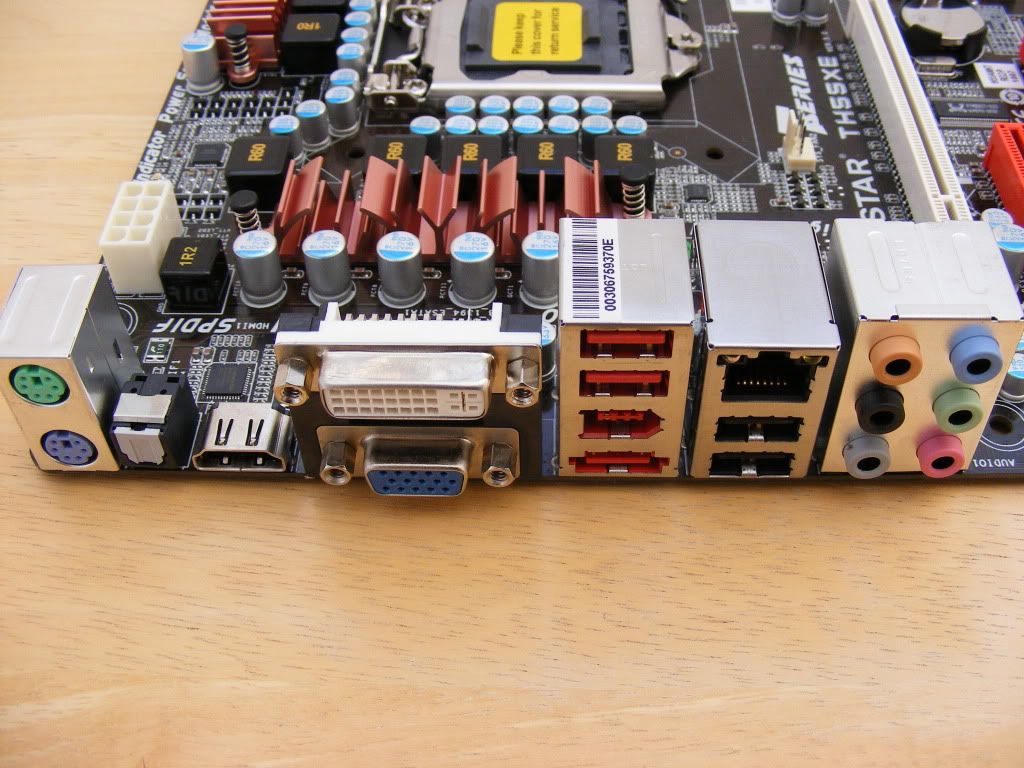 The backplane has all that would be expected. The monitor ports are only for CPUs with integrated GPUs. Any two ports can be used at once, but with the following limitations:
HDMI is not supported under BIOS or DOS

HDMI + DVI-D dual-output only work under OS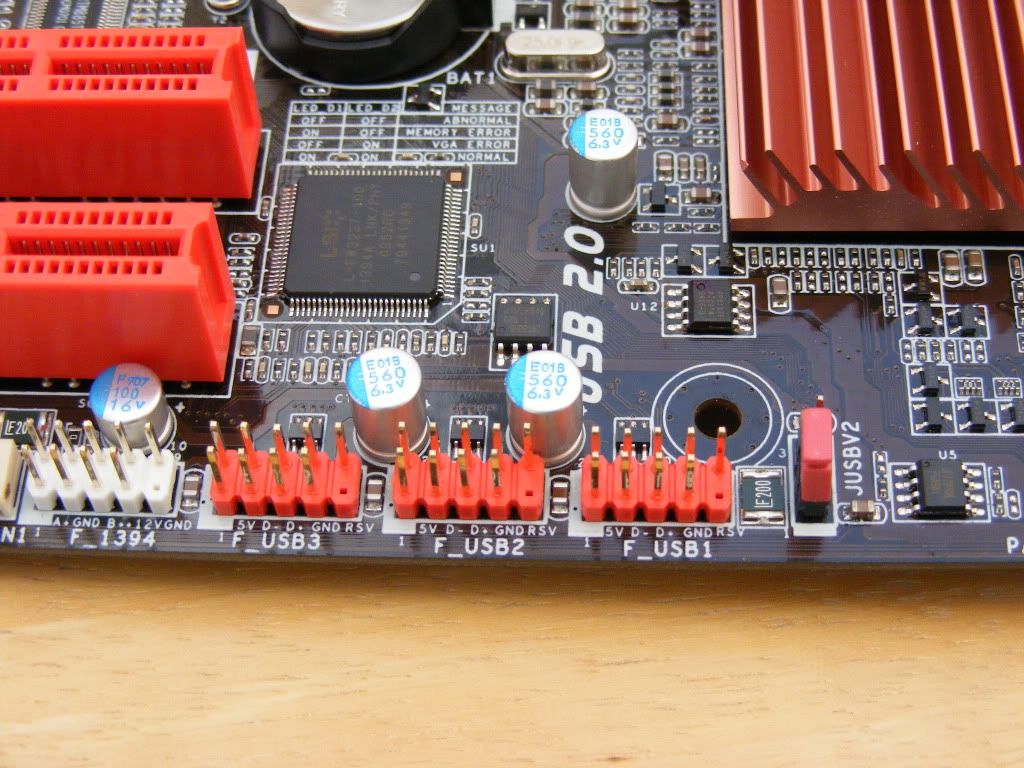 There are three extra USB headers and one for Firewire, so connectivity shouldn't be too much of an issue, but PCI backplane connectors aren't included.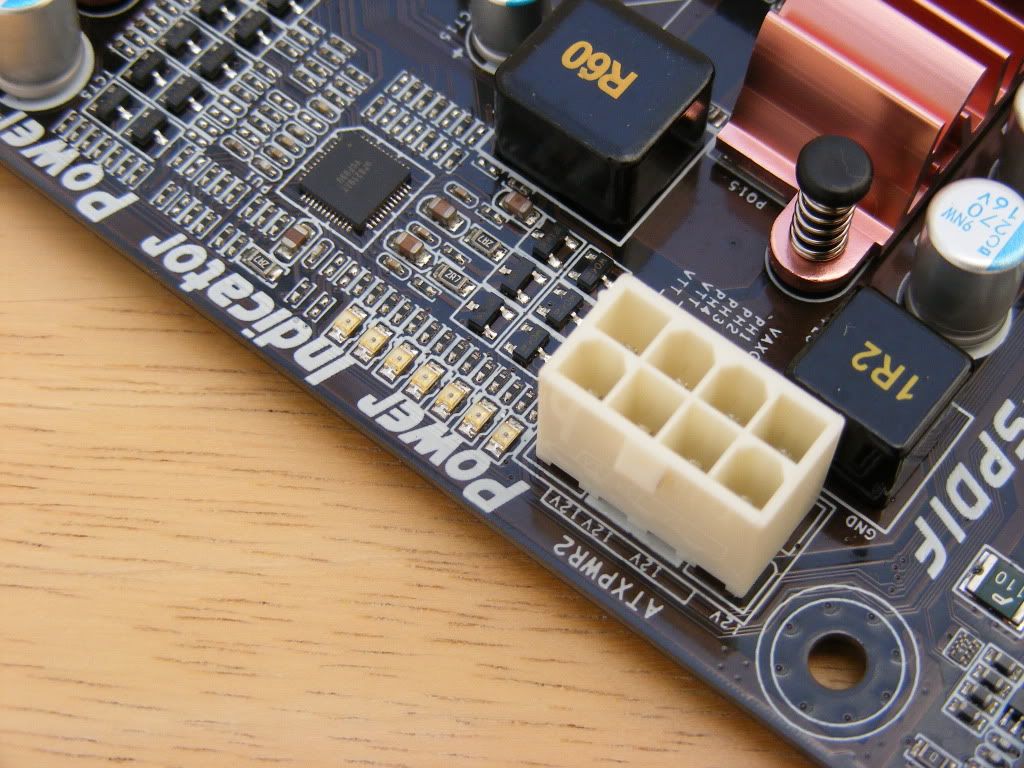 The CPU ATX plug is nicely out of the way, facing up so removing the plug shouldn't be any trouble.
Beside said plug, are LED phase lights. These match of activity of the active PWM phases.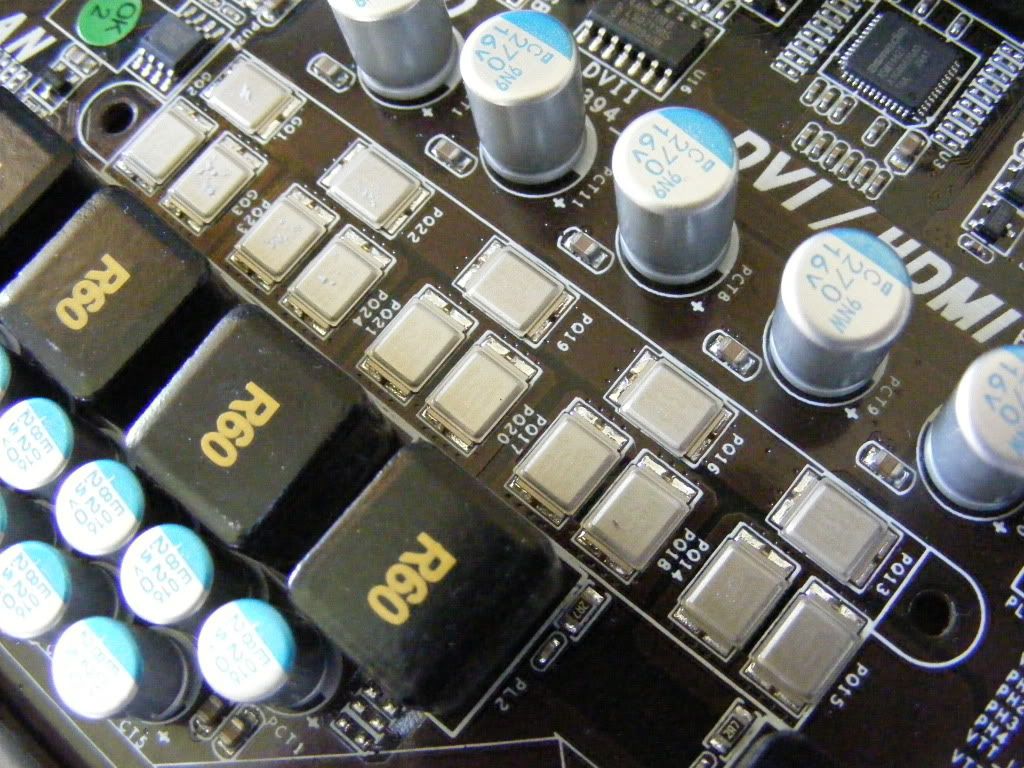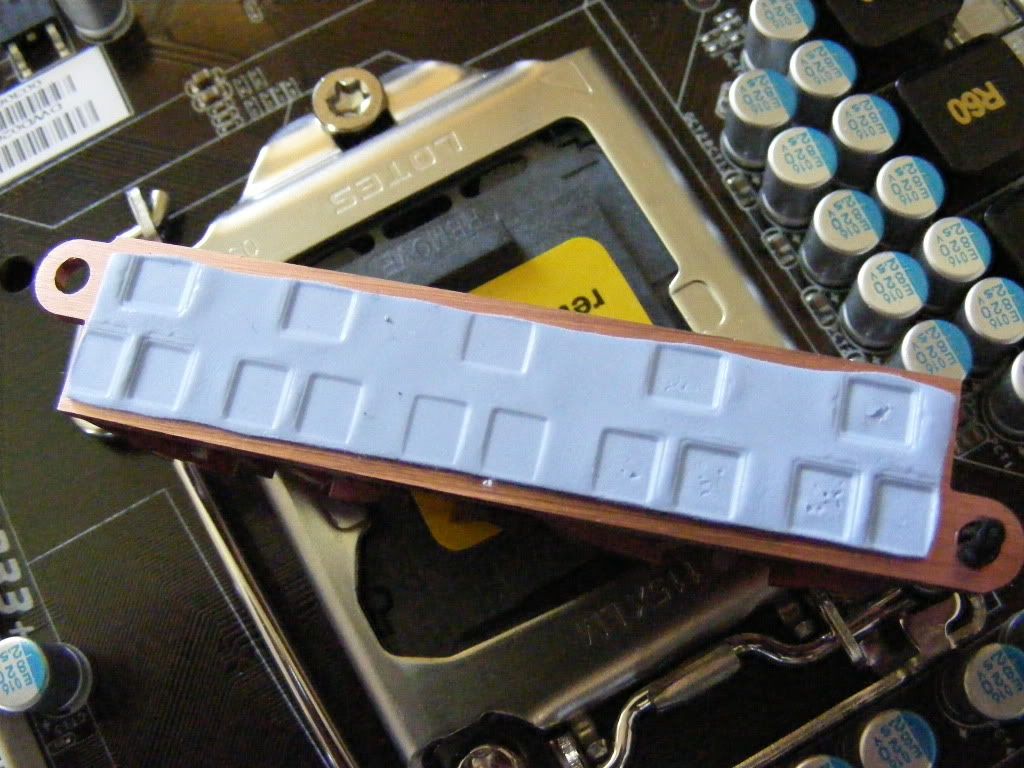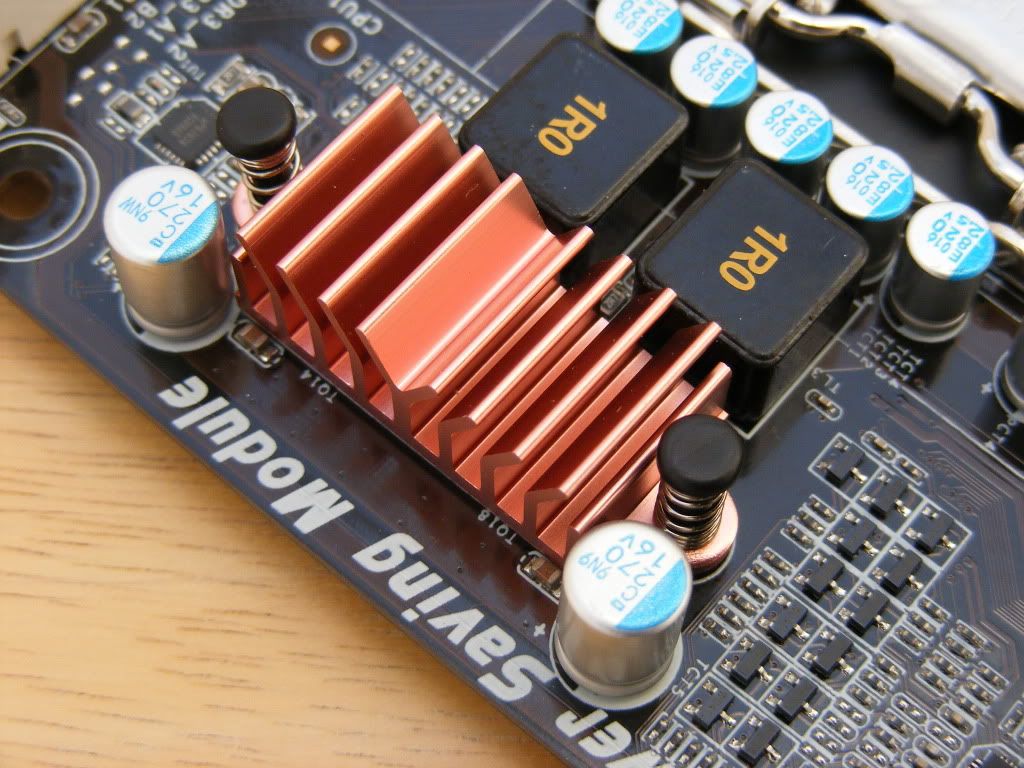 The PWM FETs are heatsinked, which is a nice touch... not many H55 boards are heatsinked, so +1 here.
->PWM is a 4+1+2 arrangement, which should be fine given the intended use of the board, coupled with the heatsinks over the FETs.
Fan headers... there is one in a totally random and conspicuous place above the PCI-E slot. Good luck utilising this and keeping the fan cable out the way! There's three fan headers in total, including one for the CPU. I'd have liked to see one or two more..... and better placed - the CPU HSF fan plug is in a random, not especially convenient place.
There's an ATA connector!
Full review at
Benchtec UK